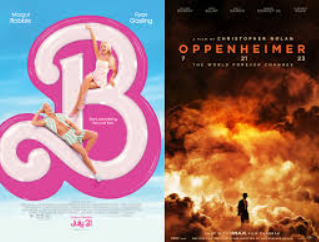 If you had been anywhere on the internet this summer, you would know that two very popular movies came out on the same day this year: Barbie, directed by Greta Gerwig, and Oppenheimer, directed by Christopher Nolan. Both directors are famous for their excellent work, so these two "movies of the summer" were heavily anticipated. Memes quickly surfaced due to the hilarious contrast between the two movies, despite their similar budget and release date.

Audience members went over the top with their outfits, wearing all pink for Barbie and dressing in suits for Oppenheimer. Oppenheimer is a movie about J. Robert Oppenheimer (Cillian Murphy) who helped create the Manhattan Project and the atomic bomb that would be used against Japan to effectively end World War ll. It chronicles his life starting pre-war and extends into his later life, focusing on his legal troubles and the weight of his invention's sacrifices on his mind.
In Barbie, Barbie (Margot Robbie) is faced with troubles in Barbie Land and has to visit the real world for answers. Ken (Ryan Gosling) goes with her and there they both learn about the patriarchy. Ken brings the ideas of the patriarchy back to Barbie Land and causes chaos, changing the social atmosphere. Barbie has to convince the other Barbies of the truth of being a woman, something they were all blind to, with the help of friends from the real world. While the movies are very different in nature, they both explore very deep and emotional topics. 
The movies being released on the same day broke the box office! Barbie made $1.384 billion and Oppenheimer made $850 million. You can still watch these movies in theaters! Check them out!