This year, Mrs. Reichman is teaching Gateway's much anticipated new course, True Crime & Detective Stories! This is a class that mainly focuses on studying convicted criminals, the criminal justice system, and wrongful convictions, featuring class discussions, debates, analysis, and more. Earlier this week, Mrs. Reichman answered a few questions regarding her new, awesome class!
We first asked her, "What is your favorite crime show to watch in your free time?"
She replied, "My more recent favorites are Love & Death, Take Care of Maya, and Black Bird. My favorites of all time are Dexter, American Crime Story, and When They See Us."
She also suggested the movies The Green Mile and The Shawshank Redemption. We can tell from these lists that even outside of class Ms. Reichman is a true crime lover. This also shows how passionate she is about teaching this class. 
We followed up with, "What are you most excited to teach us about this year in True Crime and Detective Stories?" 
She responded, "I am really looking forward to teaching about the workings of the justice system, wrongful convictions, and rethinking the prison system. I am excited to have students question what justice means and consider why humans behave in unthinkable ways."
She continues, "We will create serial killer museum exhibits, redesign the prison system, individually investigate and present cases, make creative writing portfolios of detective stories, create a true crime documentary or movie, and make an unsolved case file."
It is evident that Mrs. Reichman has certainly put a lot of time and effort into this class.
Mrs. Reichman later states, "There are ten units we will cover this year, so I am going to try to expose students to as many topics as possible. There is not one specific topic we are covering most because there is so much out there. I want students to see that the genre of true crime is not just about what they see in the media, TikTok, or Youtube."
She anticipates teaching her students about the many different types of crime and cases that have mystified society, while also teaching different ways the courts react and respond to a variety of situations. 
"What age do you recommend that people start watching crime shows?" we then queried.
Mrs. Reichman then answered, "I would recommend upper high school-aged students to start if they are interested. The reality is, so much content is out there and young adults are exposed to it early, but I think it takes the maturity level of a junior or senior in high school to comprehend the topic at a deeper level."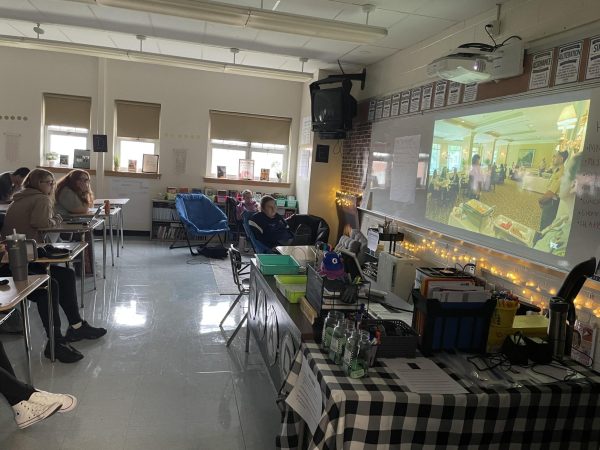 It is certainly true that many younger teens and kids have tuned in to such shows earlier than they should.
Lastly, we asked Mrs. Reichman, "If you weren't a teacher would you be a detective or something else in the criminology field?"
She replied, "Definitely not. Maybe I would consider teaching in a prison or juvenile detention setting, but I would not have the bravery or stomach to be a detective."
This shows that even though she is interested in true crime cases and the justice system, Mrs. Reichman wouldn't choose to dedicate her life to the work of investigation. Instead, she would rather leave it to the professionals. We are glad that she decided to teach this class at Gateway!
If you are an underclassman and didn't get a chance to take her class this year, be sure to sign up for this awesome elective when scheduling for next year starts!