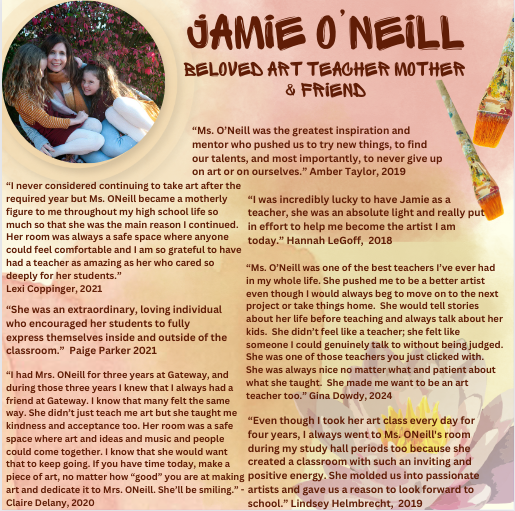 Last week, the Gateway community lost a beloved Art teacher, Ms. Jamie O'Neill. Gateway to Careers' Melissa Eckstein enlisted the help of both former and current students to collect tributes to her legacy. Student staff writer, Allison Eckstein, created this beautiful infographic to share those student memories with the greater Gateway community.
O'Neill was a true warrior, and her magic weapons were paint brushes and encouraging words, both which fostered a trusting and loving environment for those in her charge.
As an example of how O'Neill touched the lives of students, Melissa Eckstein, Allison's mom, shared, "Allison never listened to me that she was good at art; however, Ms. O'Neill's superpower was in encouraging the most sensitive students with wicked creativity, which made them feel comfortable sharing who they were through their artwork."
Ms. O'Neill was one of the most positive people I've ever met. She would always tell me my art looked better than I thought and that I just needed to take a step back and see the whole image. She helped me, and many other students, appreciate art in all its forms. Her class was always one of the highlights of my day.
— Allison Eckstein, 2025
We call on our Gateway community to help us honor a true Gator. Please consider sharing how Ms. O'Neill touched the lives of many, and we also welcome you to share your own memories and tributes in the comment section.  It is our hope that these beautiful tributes to her legacy will touch and comfort the grieving hearts of all those who are missing her.
Ms. O'Neill was not only an incredible teacher to me, but she was also a mentor of sorts. In the years that I had her, she helped me overcome struggles in my artwork, as well as in my confidence overall, and I would always go down to her room during lunch and have long conversations while I worked on one project or another. She was an amazing teacher and an amazing person.
— Jack Patrick, 2025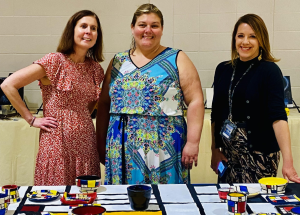 If you would like to support Ms. O'Neill's daughters, visit the GoFundMe link below:
https://www.gofundme.com/f/lift-up-jamies-girls