"
Don't let anybody work harder than you.
— Serena Williams, winner of 23 Grand Slam singles titles.
Williams is renowned as one of the best women's tennis players in history, and she had to work for that title, just like the Gateway Girls' Tennis Team. 
Marc Dickson and Keith Abed have been coaches together for years and have proven they are an effective duo. The Girls' Tennis Team is one of the most successful sports teams at Gateway and the only sport to have won three titles in a row. Though the team has lost some very strong players in the past two years, they have a bright season ahead of them.
1st singles Morgan McNally
2nd singles Tabby Bay  
3rd singles Allison Eckstein
1st  doubles Sarah Martin and Ashley Jackson
2nd doubles Addison Packer and Rachel Summers
Team Captain Charleigh Adams
When asked her thoughts on the upcoming season, experienced varsity player, Tabby Bay said, "I'm very excited for this upcoming season. There has been a lot of improvement throughout the whole team from last year to this year, and I think everyone will just keep getting better as the season goes on."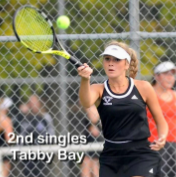 After winning 3 straight sectional championships throughout the COVID pandemic, the Gateway Girls' Tennis Team finished 2022 in the finals for the 5th consecutive year.  As stated in NJ.com,  "It's only natural to expect Gateway to be in the mix again when the South Jersey Group 1 playoffs come around." 
Unlike other sports, tennis has no elementary town feeder program.  Yet for three years, this team has kept winning against the odds. Though they only have 4 returning starters out of 7 this year, we can expect them to be the hardest-working players on the court.