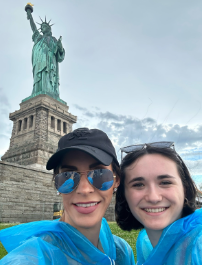 The biggest thing I did this summer was go to New York City for a few days. I actually went as a birthday present from my aunt. Together we dressed up and went to the Metropolitan Opera House to see the American Ballet Theatre perform Giselle. I went on July 3rd and the cast was amazing! Hee Sao was Giselle, Cory Stearns was Albrecht, Chloe Misseldine was Myrtha, and The Corps danced as one. My favorite part of Giselle is the mad scene. I love seeing different ballerinas' interpretations of the scene and the different acting skills used to show Giselle slowly going mad before her death at the end of Act 1.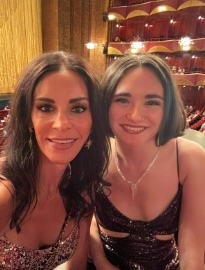 However, that wasn't it for my New York adventure. My aunt and I also went to see the Statue of Liberty. Unfortunately, it was raining, but I still had a good time. Afterward, we used the Citi bikes and rode along the Hudson River to get to our Fourth of July cruise. The Cornucopia Princess, which was the name of our ship, took us out on the Hudson River and we got to see the Macy's fireworks display from the water. I think my favorite part of being out on the water was seeing all the other boats and waving to them. 
One goal I have for this year is to not stress myself out. Sometimes balancing dance, school, social time, and time for myself can become overwhelming. This year I want to really work on managing my time and putting myself first.