To celebrate the upcoming Homecoming Game and Homecoming Dance on Friday and Saturday, Gateway students have been participating in spirit week! To follow the Hollywood theme of the dance, the spirit days this week include Barbenheimer Day, Stunt Double Day, Adam Sandler Day, and Friday class colors.
Mrs. Barrett's Journalism class: Abria Joshua, Caleb Sobel, Cassidy Hagmaier, Desmond McCue, Kalise Miller, Kaylee Glass, Lexie Kirwin, Hazel Foster, McKenna Spositi, and Laurel Barrett have been learning interviewing skills and put their knowledge to the test for Stunt Double Day, questioning matching students during third period on October 11th.
As soon as we entered the guidance offices, Ms. Morda and Ms. Powell excitedly skipped out of their rooms, identical in every way! They explained that it was not hard whatsoever to plan their outfit. They even wore the same exact shoes without planning! As for why they decided to be each other's stunt doubles, Ms. Powell explained, "People have always said we look alike. We have often been mistaken for one another!"
Mrs. Ziegler from Guidance and Mrs. Perdicaro from the Main Office explained how shocked they were when they saw the pair enter the school this morning! They couldn't even tell who was who.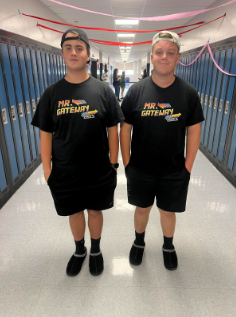 When we asked Matt and Ryan how they chose their outfit, Ryan Seber said, "We both knew we had the Mr. Gateway shirt, and we just figured out what other clothes we both had."
Matt added on by joking, "We also used echolocation."
They explained that they frequently get told that they look very similar, so they decided to take it a step further.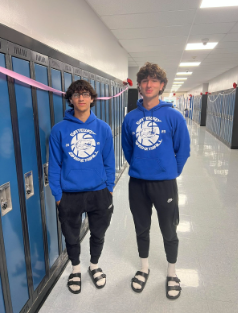 Juniors Benji Contarino and Justin Dugan often accidentally match on the daily. So, twin day was perfect for them.
Benji expressed that he simply, "Looked in his closet," to decide what to wear.
When asked why they chose to match with each other, they said that they're, "Both pretty cool."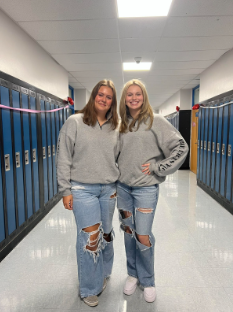 Molly and Kalise decided to match on Stunt Double Day because they are, "Basically the same person, just in different fonts."
Molly told us that the pair, "Wanted to pull items out of each other's daily closets."
She typically wears sweatshirts and quarter zips, while Kalise tends to wear jeans. They are also big Taylor Swift fans, hence the Taylor Swift merchandise.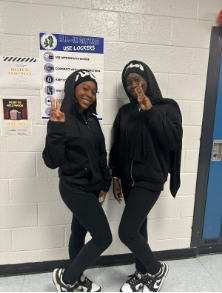 Freshman Morgan Bullard and Aicha Sacko were twinning in an all black and white outfit! After asking them, "Why did you choose this outfit?" Morgan stated, "We wanted to get in the Gateway spirit and having similar styles it was easy to pick something."
Aicha excitedly stated that the dunks and beanies were her favorite parts of the outfit.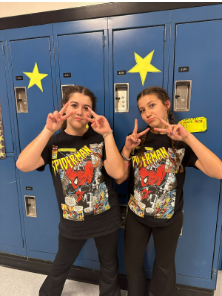 When asked about their decision to twin, Lily said "Our love for Spiderman made us pick the shirt and we had the same pants so it was easy."
Also twinning with their hair style, these girls were definitely stunt doubles!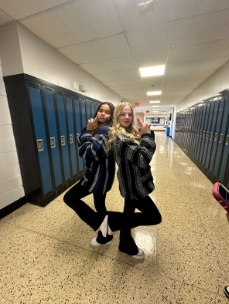 Maggie Frombach and Adriana Gomez were twinning all the way! Adriana says, "We have fond memories and experiences with this outfit, twin day was the perfect time for us to wear it."
From their sweatshirts to their shoes Maggie said, "It fits both of our styles."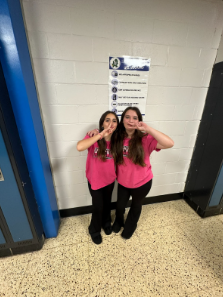 Pink shirts and flares with black Uggs were Lily McAdams and Aryana Gonzalez's Stunt Double outfit.
"Lily had two of the same shirt so she gave one to me, and now we are matching," Aryana explained.
Lily and Aryana both professed that the vibrant pink color scheme was their favorite part.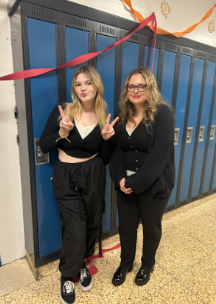 Sophomores Alora Robbins and Adriana Miles are twinning with a black top with white lace lining as well as black pants and shoes.
"I found we had a similar shirt that we both love, so why not wear it on Stunt Double Day?" Alora explained. 
We love to see the Gateway Gators so into Spirit Week! What a great way to hype up the fun this weekend. Is your school participating in a pre-Homecoming Spirit Week? Comment and let us know your school's themes!