The Gateway Girls' Field Hockey season is officially underway! The current roster consists of fifteen players, all on the varsity level. So far they have a 2-5 record but are playing big schools with outstanding teams. Amy Ambrosius has been the head coach for years at Gateway, and she has worked to build a team with strong players who support each other.
In an interview with the head coach, I asked her a series of questions. First, "What are some goals you have for this season?"
Mrs. Ambrosious responded, "I have many goals, to win all of our crossover games in the colonial conference, win the first round in playoffs, and build an off-season work ethic," she continues, "We have improved most in our strength physically but we can grow mentally."
I then asked, "What will have the greatest impact on our team this season?"
"We have to be patient with each other and learn from our losses, we are in a tough division and corrections need to be applied in order to get better," she answered.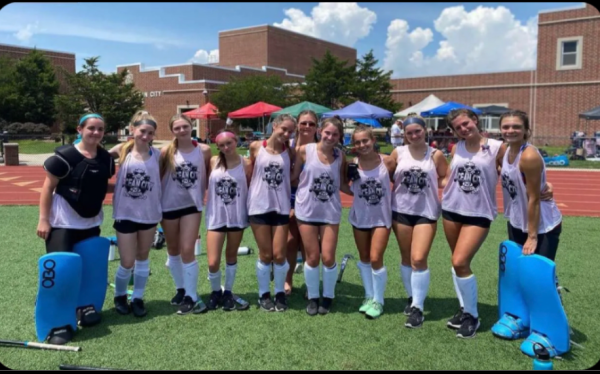 2023 Varsity Players and Coaches
Amelia Aungst-flick
Adriana Endt                                                                            
Abby Haines                                                                                          
Angie Zagone
Bella Fini                                                                                       
Brooke Ream
Caity Cook
Gabby Gasis
Isabella Egenoff
Lexie Kirwin 
Lauren Murphy 
Maddie Denton
Maura Kearnes
Sage Easie
Sofia Lezotte 
Coach Ambrosius
Coach Peterson 
Coach Traitz
So far, Girls' Field Hockey has played seven games in the conference and won two. After wins against Pennsville, 8-0, and Absegami, 7-2, the team will need to focus on the harder games and not let anything get past them.
The hardest game so far was the loss against West Deptford, 10-0. By taking advice from the coach, getting stronger mentally, and not letting things get in the way of play, the team can overcome tough games and come out with wins.
The girls still have twelve more games in the regular season and hope to learn from every single game with the help of Coach Ambrosius and senior captains, Angie Zagone, Gabby Gasis, and Maura Kearnes.
Hopefully, the Gateway Girls' Field Hockey team will continue to improve and meet the goals set for this season and future seasons to come. Go Gators!