Ms. Waring, one of Gateway's amazing Spanish teachers, saw a need for an open forum at Gateway for all questions and discussions regarding race, identity, and diversity, so she created Diversity Club! 
Prior to working at Gateway, Ms. Waring taught at another school where she led the Black Student Union. The club was so successful, she explained, that it inspired her to start Diversity Club at Gateway. The club is still fairly new but has been extremely successful. Ms. Waring shared that her favorite moments thus far were seeing club members volunteer at the annual Bundle Up Against Cancer 5k and hearing all their ideas and questions in the club meetings.
Ms. Waring describes Diversity Club as:
An all-inclusive club that is committed to educating others about cultural, social, and ethnic diversity.
— Ms. Waring
Furthermore, "[It] works inclusively to bring about positive racial relations on [Gateway's] campus by promoting mutual respect for all cultures." 
Ms. Waring also hopes that Diversity Club can inspire students and staff at Gateway to empower their peers, that way, "a difference in the overall equality in and outside of our school community," can take place.
I visited Ms. Waring's class and took a picture of Diversity club in action a couple of weeks ago while they were watching a documentary, Flaming Hot, about the inspirational man who created Hot Cheetos. The students were very excited to spend time with each other and discuss the meaning of their movie. The students explained how they love going to Diversity Club every Tuesday, due to Ms. Waring's excitement and how safe they feel being themselves.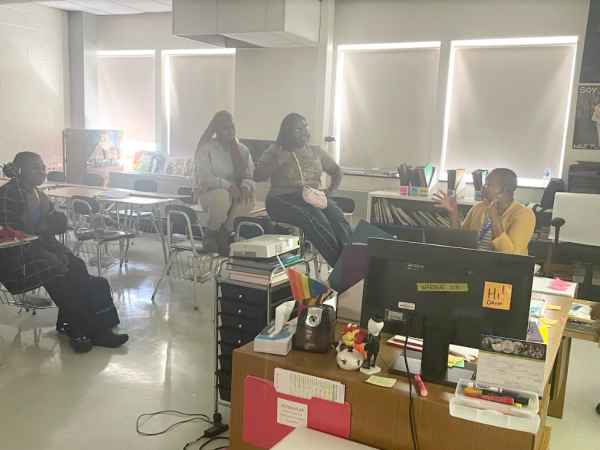 If you are interested in joining Diversity Club, see Ms. Waring in room 113! The club meets every Tuesday for discussions, documentary days, and a fun, enlightening time! Take a lesson from Diversity Club and don't be afraid to ask questions! This is an outlet at Gateway where you don't have to worry about bias, pressure, or judgment, so come ready to just be you!
I was so inspired that I chose to feature Ms. Waring and her effective efforts in my upcoming radio segment for KYW, an internship program I'm currently participating in on Saturdays. In my radio segment, Ms. Waring shares Diversity club's mission and how it is educating and inspiring students to be the change they want to see in the world.
While many students in my program are sounding off on controversial issues, I decided to focus my efforts on something that's working really well in The Swamp that not everyone knows about. Ms. Waring and her students are so passionate but way too humble, in my opinion, about what they are creating together, so it is my goal to bring light to a space that this beloved teacher has created that Gateway students have expressed desiring for quite some time.
Diversity club welcomes any new members to join them any Tuesday after school in 113. Ms. Waring is an ally to all. She welcomes any student to stop by to say hello and share ideas that will help to celebrate diversity in our school and community.
Diversity club will be having a Multicultural Winter Holiday Celebration during one of their upcoming Tuesday meetings after school. Stay tuned for updates!  If you'd like to join Diversity club or request more information, please reach out to Ms. Waring by email or stop by 113!