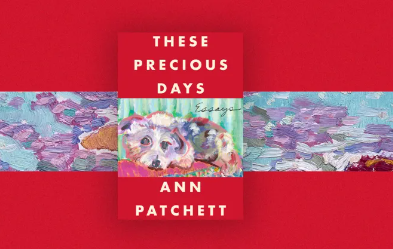 I'd been afraid I'd somehow been given a life I hadn't deserved, but that's ridiculous. We don't deserve anything—not the suffering and not the golden light. It just comes.
— Ann Patchett, These Precious Days
Ann Patchett, known primarily for her essays and novels, released her essay collection, These Precious Days, during the COVID-19 Pandemic in 2021. Featuring essays from magazines like Harper's Magazine and The New Yorker, Patchett recounts tales from her childhood as an aspiring writer with a Chief of Police father who kept her determined, "believing in [her] failure more than her success." She includes snapshots from her graduate school education at Iowa State, urging other aspiring writers not to break the bank with such a risky career plan, and waxes philosophically from her contently-childless adulthood with her loving husband Karl, friendly pup, Sparky, and eclectic friends: including Tom Hanks, Sooki (Hanks' assistant), Kate DiCamillo, and Charlie Strobel (the living Saint).
Ann tells gripping stories about her life adventures as a writer, a daughter, and a mentor. She also refers to possibly her proudest creation, Parnassus Books. Parnassus Books is the dog-friendly independent bookstore that Ann created after noticing a lack of independent bookstores in Nashville. It is one of my life missions to go to this amazing bookstore, and I would be lying if I said that its close proximity wasn't a factor in my decision to apply to Vanderbilt.
I highly recommend both Ann Patchett's essays and fiction works, and I promise you will not be disappointed. Some of my favorites include: This Is The Story of a Happy Marriage, The Dutch House, and Truth and Beauty. Her most recent novel, Tom Lake, came out in early August, and it is definitely a must-read. I'm attending a Barnes & Noble-sponsored Zoom event with Patchett, where she will be discussing and answering questions relating to this new book.
Happy reading!