Mrs. Convey, one of Gateway's amazing staff members and the leader of the Renaissance program, wants to inform everyone about Renaissance at Gateway and the amazing student rewards it offers, as well as inquire about what will help Renaissance to grow back to its popularity pre-pandemic since Gateway's goal is to grow the program.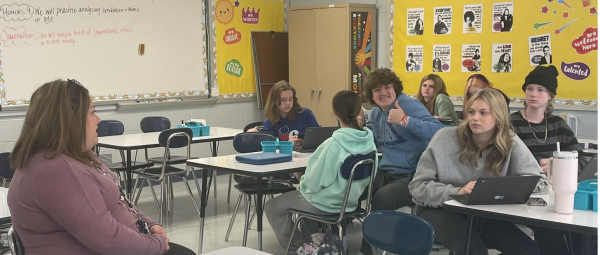 Recently, she attended the Intro. to Journalism class at Gateway Regional High School to share the Renaissance Committee's goals with students so that the program could receive student feedback and ideas and share program components and goals with the community.
At the end of each marking period, students have the chance to earn Renaissance, but what exactly does that entail? Renaissance is a reward system for students in which they can earn points in different categories. These categories include: passing grades, attendance, little to no discipline, and participation in clubs or sports. If you accomplish all or some of these, the Renaissance team will count up all of your points and see which level of Renaissance you achieve so that you are eligible for rewards. Earners get their names published on a banner to promote your achievements. 
You can either get a Blue, White, or a Gator card. For each, you get a respective amount of PBIS points and the opportunity to attend awesome events, like the Halloween Party this past week. The Gator Card is different, as it is earned from teacher recommendations. Examples are making an amazing first impression on a teacher or working hard to improve in a class.  Each marking period has a new Gator Card theme.  Remember that each marking period is a new start, so don't get discouraged if you fall short one marking period!
Mrs. Convey is open to student feedback and input on awards and is specifically wondering what types of events students would look forward to earning. Are the majority of students okay with missing class for events? What can help to revitalize Gateway's school spirit post-COVID? What motivates you to succeed? Mrs. Convey wants to know so that the Renaissance program can support you in your motivation and in helping you to attain your academic goals!
If you have any input that you think will help Mrs. Convey to make Renaissance more popular within the Gateway community or have any questions about anything Renaissance, email Mrs. Convey or stop by her classroom, room 402. If you have a lot of insight or interest, you can request to sit in on a Renaissance committee meeting as well. The program welcomes student input.