At approximately 6:30 A.M., on October 7th, Hamas launched over 5,000 rockets into Israel from the Gaza Strip. Along with rockets, 2,500 Hamas members stormed their way into Israel, and in total killed around 1400 people, including 260 at a music festival, while injuring hundreds of others. They also took hundreds of hostages, including children and the elderly, as well as a few Americans. This is a major difference from their past attacks.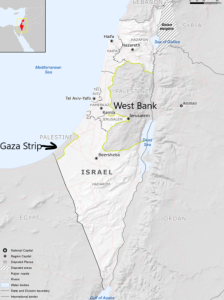 That same day, the Israelis began their bombing of the Gaza Strip and ordered the people living there to go to the southern part of the strip. The next day, Israel declared a state of war on Hamas. By the end of the week, thousands of targets had been struck. Many Hamas elites were killed, and hundreds of thousands of people were misplaced.
But who is Hamas, and why did they want to attack Israel? Hamas is an Islamic terrorist group, based out of the Gaza Strip. Their main goal is to have the Gaza Strip, West Bank, and Israel all under one Palestinian state. The reasons why are that Palestinians have inhabited the territory for the past few millennia and because Israel has one of the holy cities of Islam, Jerusalem.
Jerusalem, however, is also a holy city for the Israelis, who are Jewish. The fact that Jerusalem is a holy city for both religions has complicated relations for centuries, and ever since Israel became its own nation after WWII, they have been almost always at war. 
Now, Israel has begun conducting a ground invasion. "Destroy the enemy above and below ground," said the current prime minister of Israel, Benjamin Netanyahu, to describe their strategy.  
Israel's main tactic has been to destroy infrastructure. Since their invasion, the Palestinians' phones have not worked, their roads have been destroyed, and even their hospitals and refugee camps have been blown up. This tactic has caused a massive humanitarian crisis inside Palestine.
Mrs. Reichman helped guide The Chomp through checking for bias in this piece, and here are her thoughts:
This has also been the largest attack on Jewish people since the Holocaust. The rest of the world cannot overlook the heinous violence against women, children, and the elderly sprung from hate and terror.
— Mrs. Reichman, ELA teacher, Gateway Regional
At the end of the day, this war is good for nobody. Not only have over a million people been misplaced, but now both innocent Israelis and Palestinians have to worry about being killed by bombs and or rockets. Unfortunately, when governing entities are at war, it's often the innocent bystanders who pay the price with their lives. The suffering inflicted has been beyond the worst on record. 
This war will most likely continue for quite some time in an ongoing cycle of violence. Pope Francis says this best when he says, "The war in the Holy Land frightens me," and "How will these people end this story?"
Editor-in-Chief, Laurel Barrett, shared that when planning this sensitive topic with advisor, Mrs. Barrett, she reminded writers in the planning meeting that with The Chomp's platform, there is an opportunity, an obligation, even, to make a statement on this issue. She shared:
Check on your friends who may still be trying to locate their innocent loved ones who have had war unfairly thrust upon them. The atrocities of this war are unparalleled and fueled by hate. We cannot ignore it. Take a moment to acknowledge this. Acknowledge them. Continue to communicate your stance against violence and continue to offer your support.
— Mrs. Barrett, The Chomp Advisor & ELA teacher, Gateway Regional
__________________________________
This seems so far away from us that people are wondering what they individually can do.
Here at The Chomp, we stand against violence. We want all members of The Swamp to feel supported. There is only room for peace and tolerance in our world. Our thoughts go out to all of those affected by war, their families, and their loved ones. We stand for peace. We stand for truth. We encourage you to stand with us. 
– Laurel Rose Barrett, Editor-in-Chief
If you want to do something more, check out ways to safely donate to victims trying to restore their lives to some semblance of normal during this Israel-Gaza crisis.